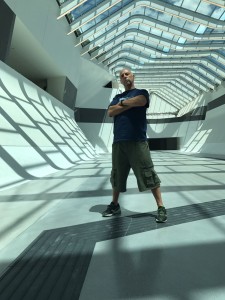 Born in Milan, Italy, begins his adventure as Producer and Dj in 84 establishing the first collective
Hip Hop Italian history RADICAL STUFF creating the basis for the growth of a generation to come .
In the following years he devoted himself as one of the most largest producer and DJ of the highest quality. Perfecting his production style by living in New York where he worked with a variety of manufacturers and in the 90's in Italy produces groups as:
Gente Guasta, OTR,Fucking Camels, La Pina, Frankie, Neffa, Gruff Alienarmy, Kaos,
Bungalow Zen, producing also three of the most important Italian DJ tools :
GOLDEN BREAK BEATS, BREAKS HEAVY IMPACT, SECRET RECIPE BREAKS.
In 96 he moved to Australia,wins DMC titles and worked in production and tours with musicians of undisputed talent as Torcha, Hijack, Thorn, DjSing, Dj Bonez, making Australia his second home art,
in '96 he founded the legendary Alien Crew Army and later in 2001 he meets Mike Patton (USA) and starts a tour and collaboration that lasts a couple of years in which enriches its wealth of creativita.
Working as an Art director for the Italian DMC, ITF and Vestax Extravaganza Italy as a product manager for Vestax/Gemini/Stanton/Numark, attending as a show case and demonstrator for SIB (Ita) NAMM (USA) and ENTECC (Aus).
In 2006 creates the most prestigious competition for DJ's "Killa Combat Scratch "studying a new system of Head to Head battle. It opened in 2009 the first courses for DJ and PRODUCERS in Milan at Accademia del Suono and founded the Scratch Academy Skizo attending many Stages around italy. Boasts appearances on prestigious television channels like RAI, MTV, ALL MUSIC CHANNEL 5 RETEQUATTRO and RADIO DJ, RADIO POPOLARE. Has product INOKY for Warner Bros, the new LP BUNGALOW ZEN and his solo LP DJ Skizo BROKEN DREAMS for relief recods eu.Openings on stage with artists like 3RD Bass,Naughty By Nature, Paris,Rakim, RA the Rugged Man, DJ DStyles,Excess, Woody,Qbert,Disk,Mike Boo, and many others. He collaborates trough the years with FLYING RECORDS, WARNER BROS, RELIEF RECORDS EU, IRMA RECORDS ,THIS PLAY MUSIC,KAPPA RECORDS,SCHEMA RECORDS.
Currently workin at R12 Dj School Milano
Late Productions
Siamesi Brothers(2012)
Double LP instrumental LAST MINUTE XCAPE (2013)
Leggende Metropolitane feat Mirko Miro (2014)
THE DIFFERENCE Double LP (Alien Army) (2015)
EP in collaboration with GERARDO FRISINA (2015)
12 inch BATTLE BREAKS "START FROM SCRATCH" in collaboration with MANDRAYQ (2015)
Alien Army Quattro deluxe LP (This Play Music 2016)
Alien Army Good Morning Worldwide Ep This Play Music 2018)
 Director of Web Pages  specialized in Hip Hop culture: SCRATCH ITALY – ITALY HIP HOP FOUNDATION
Art Director and founder of BE THERE OR BE SQUARE Original Italian Jam